IrriMAX Live is a subscription-based online portal that displays integrated soil moisture, salinity, and temperature data. This intuitive platform is based on Sentek's acclaimed IrriMAX Desktop version and allows real-time monitoring of water use for precision irrigation management.
The system is simple to set up and offers a range of viewing options including maps, graphs and lists. IrriMAX Live data can also be accessed remotely and information shared easily so you know how much water is available at all depths in the soil profile to support your decision making.
Devices: All smart devices with internet
Platform: Works on iOS and Android and accessed through web browser
Features
Plot soil moisture, salinity and temperature at each measured depth.
Zoom in and out to required time and measurement scales.
Create alerts for chosen thresholds for moisture, salinity, temperature and also battery data.
Identify and colour code saturation, field capacity, onset of stress and hence plant available water at each crop stage.
Monitor root activity and measure daily water use, drainage below root zone and infiltration rate.
Insert comments to communicate or record events and insights.
Choose from a library of calibration equations.
Open API to incorporate or share data from outside sources.
Powerful reporting functions.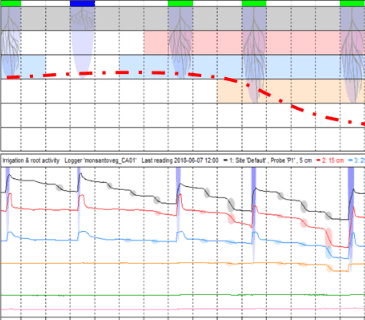 Irrigation Analysis
Learn more about IrriMAX and its new feature: Root Detection and Analysis!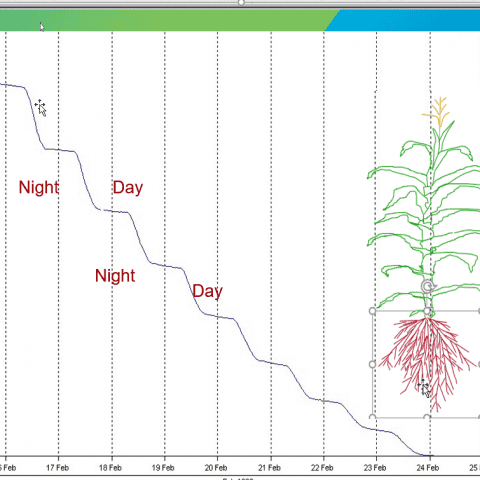 Daily Water Use
Learn more about the Dynamics of Daily Evapotranspiration.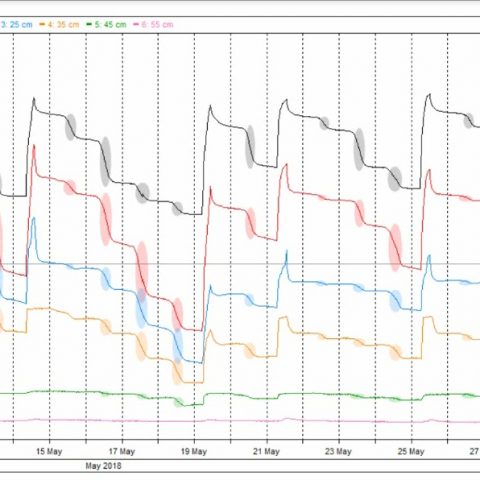 Root Analysis
Learn more about your crops root activity by switching on Root Detection in IrriMAX Live!
Increase the power of IrriMAX Live with add-ons
IrriMAX Live can be enhanced with additional services. These are not included as standard with your annual IrriMAX subscription, and need to be purchased as a separate service.
Weather Database
Gain access to MeteoBLUE weather data for your local area. Add panes to your graphs to monitor EvapoTranspiration, Rainfall, Wind Speed and more.
NDVI Imagery
IrriMAX Live is Sentek's web-based platform that allows real-time monitoring of crop water use for precision irrigation management.
Remote access and sharing of data is simple and easy to setup. Smart device views include map, graph, and list options.
Related Products
IrriMAX Desktop
Our IrriMAX software system can be downloaded to your computer so you can instantly see changes in soil moisture, salinity and temperature. IrriMAX enables you to make better irrigation management decisions using easy to understand graphs and reports. The...
IrriMAX Live: Weather Forecasting by MeteoBlue
Sentek has partnered with Meteoblue to offer a 7-day weather forecast database for any location on Earth. Forecast data is retained to provide a historical record of conditions. Weather Forecasting Service MeteoBlue Information Sheet Sentek has partnered with...