Our Drill & Drop Bluetooth probe is a simple, powerful soil moisture monitoring tool.
The probe is designed for ease of use. Data can be collected on your mobile phone using our app without the need for complex, and expensive cellular, and satellite modem telemetry.
Drill & Drop Bluetooth can be used for vegetable crops, flower farming, berries, crop research and consulting as well as tree pots and nurseries.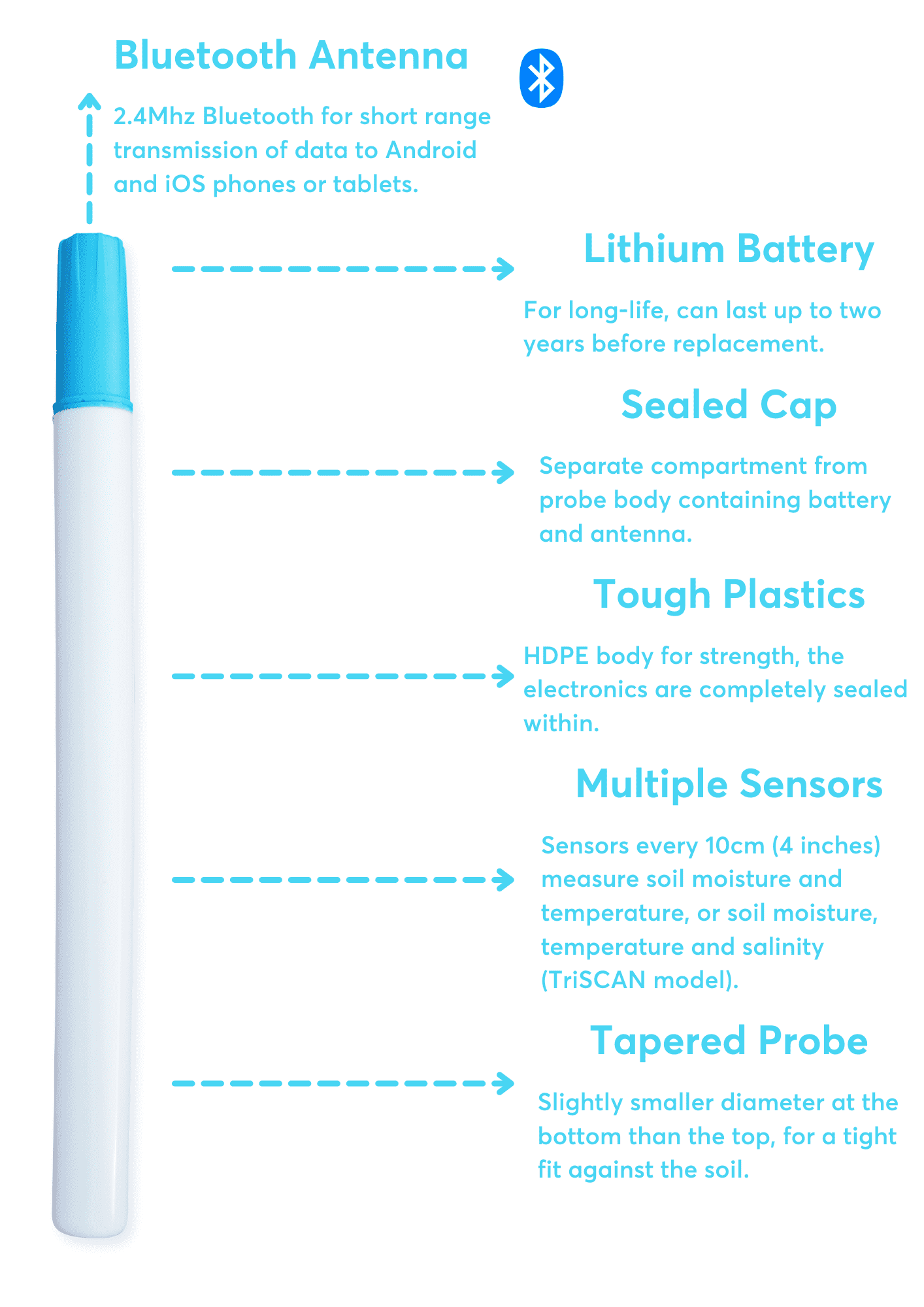 Features
Cable free, battery powered and easy to relocate.
Tapered shape allows for extremely fast and high-quality undisturbed installation in majority of soil types.
Ability to measure the true soil profile, NOT slurry.
Pre-normalised sensors with inbuilt default calibration equations.
Once downloaded to the Connect App, your data is then uploaded to IrriMAX Live.
Soil moisture charts are displayed in IrriMAX Live through any web browser on your phone or laptop.
Available with moisture, salinity and temperature sensors at every 10 cm (4 inches) depth.
Benefits
Best choice for vegetable crops, due to the fast and easy install and extraction techniques.
Ideal for use in areas without mobile reception, simply download the data to your phone in the field and upload later on when back at the office.
Manage irrigations to save water, power, fertilizer and time, along with increased yields and quality.
Fast and undisturbed, slurry-free installation procedure, increasing the validity of soil moisture and salinity readings.
Combine soil moisture, salinity and temperature readings to see what's happening in the soil profile.
Simple Soil Moisture Monitoring
Vegetables
For fast growing crops make sure every irrigation is effective, track moisture from planting through to harvest for a quality crop. Simple to remove and reinstall.
Crop Research
Easily collect data from multiple probes through one click on a smart phone. Simpler option for monitoring plant growth, root development, and water uptake as there are no cables running to telemetry devices. The probes are easily moved from project to project, giving you a greater return on your equipment investment.
Cut Flowers
Simple solution for monitoring soil temperature and water content. Low to the ground this cable free probe won't get in the way during picking.
Tree Pots, Nurseries
No more cables getting in the way in your nursery, move pots around knowing that the probe will keep reading. Collect the moisture using your phone to build a picture of tree health and optimize your irrigation timing and rates.
Blueberries
Monitor root development and water uptake. The 30cm/1ft probe is ideal to place inside pots to monitor water movement through the substrate, and can be easily moved.
Crop Consulting
Ideal for diagnostic work, the Bluetooth Drill & Drop probe is easy to install and easy to remove – so you can move it around rows and crops easily. Monitor wetting patterns from drip irrigation by using two probes either side of the emitter and IrriMAX's 2D analyzer feature.
What Does It Measure?
With the innovative tapered design and install technique, this probe measures the true soil profile. It is available with moisture, temperature and salinity sensors at every 10cm / 4″ depth. Precise readings provide confidence in making advanced irrigation management decisions.
What's Included
The App is free to download on any Android or iOS device. The installation equipment can be purchased separately, and consists of a hardened plastic tripod with pins, and a tapered auger at the correct length for your probe depth.
Are there Ongoing Costs?
After the first year, the IrriMAX Live licence will need to be renewed. The Lithium battery will also need to be replaced after a year or two.
Is The Bluetooth Probe Available In All Countries?
Each country and region has specific requirements that transmission devices such as the Drill & Drop Bluetooth probe needs to meet. We have submitted specifications and gained approval for many of the countries our dealers are in. For more information on product availability in your region please contact us.
Is My Data Secure?
Yes! The access to the probes is locked down using a security key (Group ID) so the data cannot be accessed unless authorized. Further, once sent to your own secured IrriMAX database it can only be viewed by password authorized users, and is backed up on our servers
I've Got An iPhone, Is There An IOS App?
Yes! It is called 'Sentek Connect' and is available to download on the app store.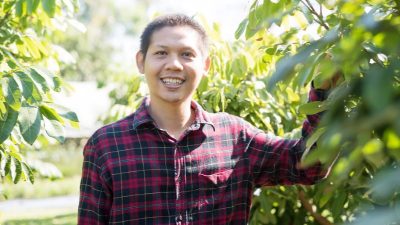 Sentek soil moisture probes are sold through a network of trained dealers.
Your local Sentek dealer can assist with product selection, installation and data interpretation support.
Where to Buy
Setup The Tripod
The installation tripod provides stability when drilling, ensuring a straight hole for the probe.
Drill The Hole
Tapered augers create a perfectly drilled hole for the probe, this fast method does NOT need a slurry.
Drop In The Probe
Wet down the probe with a light spray of water, then slide it into the drilled hole by hand. Gently push it down holding the probe below the blue cap
Final Position
For the last push use the provided tool from Sentek to protect the cap. The final installed position should have the blue cap above ground
We've used the Drill & Drop BlueTooth for 12 months in artificial turf on a bowls green, as the client needed to monitor moisture levels to prevent warping of the playing surface. It is unobtrusive, and we haven't had any troubles with reliability or accessing the data. No cables, no complicated telemetry – this has been ideal.
George Dridan, IPV