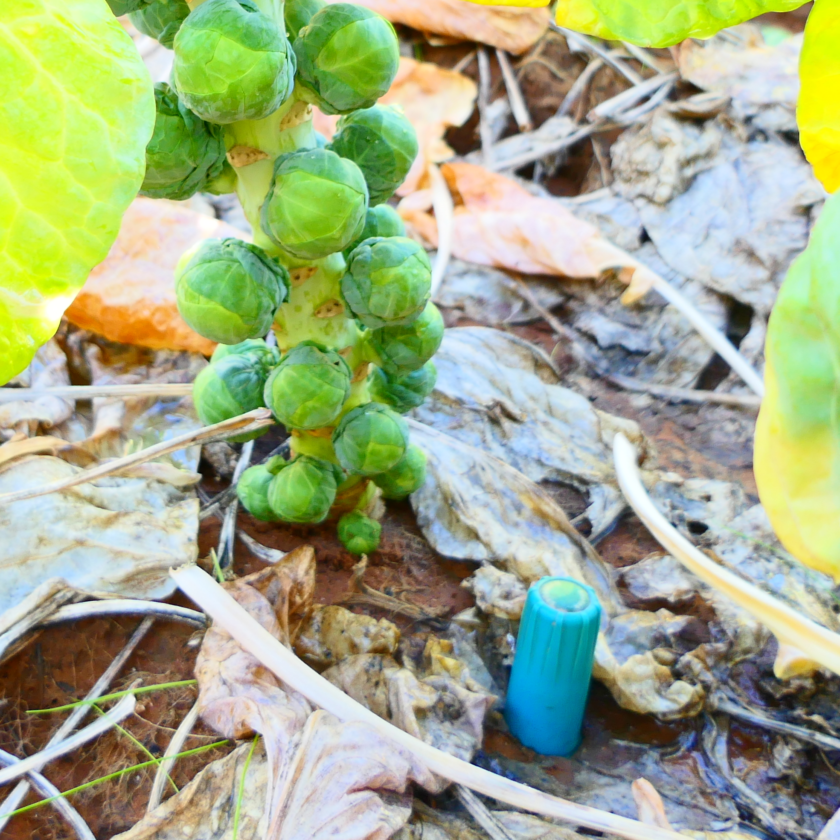 Brussels Sprouts Benefiting From Data
Sentek Bluetooth Probes – The Perfect Soil Water Management System for Brussels Sprouts
Josh Cranwell is a fifth-generation farmer at AE Cranwell & Sons alongside his sister Erin, father Robert and uncle John. With over 100 years of growing experience, the family farm has grown multiple crops, but now focus on carrots and predominantly brussels sprouts, of which they sell nationwide for 9 months of the year. AE Cranwell & Sons is located in Hay Valley of the Adelaide Hills and Langhorne Creek, in the midst of a well-known South Australian wine region. For a closer look of their farm, you can visit their Instagram page @hayvalleyveg.
Josh uses over 10 Sentek 60cm Bluetooth Drill & Drop probes on his properties. The probes are in the field for 6-7 months at a time, strategically placed under each half of a pivot. During summer when the crops are more vulnerable, the farmers would visit the field via motorbike and on foot and download the data from each probe on their mobile phones daily.
AE Cranwell & Sons first purchased Sentek's soil data probes in 2019 to monitor the water levels they were using to ensure it wasn't too much or too little at a time. Since then, Josh and his family have been using over ten Bluetooth Drill & Drops for more than merely measuring the levels of irrigation. The data from the probes allows a farmer to "Be a bit smarter, be more efficient with your irrigation", Josh tells Sentek, "You can make a lot more informed decisions." Josh adds the convenience of using one's own phone rather than taking another device into the field.
When discussing Sentek's irrigation decision aiding software IrriMAX Live, Josh highlights the usefulness of the root activity detection feature, where a grower can detect if the water is being absorbed by the roots or merely soaking through. He has found the visual aspect of the software's graphs highly suitable for communicating to a range of farmers and age groups. "Those visual cues can be very helpful especially when you're trying to pass on a message," Josh says.
Sentek's Bluetooth Drill & Drop probes are becoming very popular among vegetable growers due to their fast and undisturbed installation and extraction techniques. The length options of 30cm, 60cm, 90cm and 120cm cover the full range of measurement requirements. There is also no cable to get accidently cut by machinery. This and their ease of data access, are attributes that are highly valued for short-term crops. The undisturbed (slurry-free) installation allows for immediately valid data when measuring soil, crucial for short-term, sensitive crops. It also allows the probe to be easily re-located, or to maintain one position for an extended period of time. The probes include a single lithium battery and are cable-free, without requiring phone reception. Simply connect your mobile device (Android or Apple) via Bluetooth to the probe to obtain all the information recorded since your last visit and upload the data to IrriMAX Live. The updated graph can be viewed by multiple staff members on their phones, tablets or PCs.