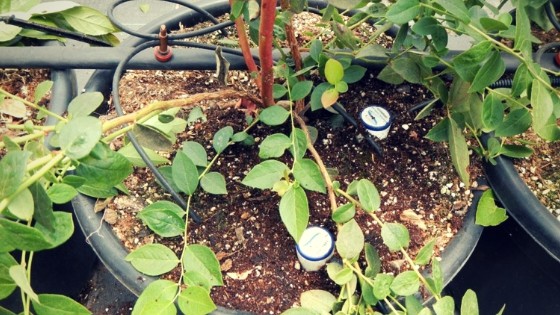 2D tools provide advanced analysis
BACKGROUND
Leading Sentek distributor, CDTEC in Chile have been working with a large scale Blueberry producer to improve their irrigation technique.
The Blueberries are grown in tunnels, in pots with a coarse growth medium made of 85% coconut fibre and 15% Perlite. This creates an open medium with 65 to 75% porous air space.
Some of the challenges in growing the crop this way are:
Ensuring the water to air ratio near the roots is optimum for growth and disease prevention
The total water volume of each pot was about 22 litres, weighing about 9 kg when the growth medium was dry, about 24 kg when saturated without draining, and about 14 kg at field capacity.
Two Drill & Drop probes from with sensors at 5, 15 and 25 cm were installed at a centre and an edge position within the pot growth medium.
PROBE INSTALLATION
Two 30cm (1 foot) Drill & Drop probes were installed into the pots, as the growing media was very open/loose there was no need to auger. Of course, there is a risk of air gaps in a situation like this, so the growing media was pressed down to ensure contact with the probes.
One probe was placed in the centre of the pot, and the second placed closer to the side.
One of the agronomic questions that CDTEC wanted to find data for was "How does the water move from the emitters across the pot". To find the answers, the team decided to use Sentek's Toolkit.
Sentek soil moisture sensors as supplied in the Agronomic Toolkit and 2D Moisture, Salinity and Temperature information were used to improve irrigation management of Blueberries grown in pots:
• 2D Visualisation of moisture based on 2 soil water probes in the coco fibre medium enabled optimum wetting pattern development under drip to achieve the conditions for best root development by maintaining a good balance of air and water in the growth medium.
• Trying to create the best water status in the growth medium to facilitate optimal lateral movement, volumetric water values above field capacity needed to be achieved and managed and were obtained using 2D visualization of contours of growth media water content.
• To avoid the accumulation of salts caused by fertilizer application at the edges of the main wetting bulb, 2 D salinity contour patterns were used track and manage salt accumulation.
• Monitoring and management of growth medium temperature in the centre and edge of the pot helped to avoid crop heat stress.
RESULTS / CONCLUSIONS
Many agronomists, consultants and farmers around the world would like to learn more about soil moisture monitoring and understand the value that insights from soil moisture and salinity dynamics can add to their own and their clients' businesses.
The Sentek Toolkit was designed to addresses the key industry issue of irrigation not evenly distributing water and fertilizer. An analysis of the irrigation performance must take account of the actual 2-Dimensional wetting and drying patterns. Profiling probes installed in an array measure the variability of water and fertilizer applications and use by the plant.
Specialised software analyses and displays these dynamics. This enables different strategies to be undertaken, with quick application rate and pulsing technique adjustments. Desired outcomes can be achieved through efficient irrigation and fertigation of the root zone. Even small yield and quality gains, combined with savings in inputs have considerable impact on the bottom line. If the cost of a crop is 80% of the average yield, every 1% gain represents a 5-fold increase in profitability.
Packages includes unique and comprehensive data analysis techniques developed to meet many soil related challenges including:
Investigating the impact of different tillage systems or irrigation techniques on water spread
Monitoring the depth and concentration of fertiliser penetration
Observing and quantifying root growth through water usage dynamics
Dynamic changes in soil water content over time
Effects on plant water uptake from excess or insufficient water
Plant response to environmental conditions on a daily basis
Different plant species and genotypes have differing abilities to extract moisture from the soil profile. Sentek Toolkit makes it possible to determine how much moisture is being extracted from varying depths at different growth stages.
By determining the active of root zone at any stage of the growing cycle, we can determine the seasonal water use and how much water to apply to ensure that we are not overwatering, while at the same time ensuring that we apply sufficient water to meet the needs of the crop.