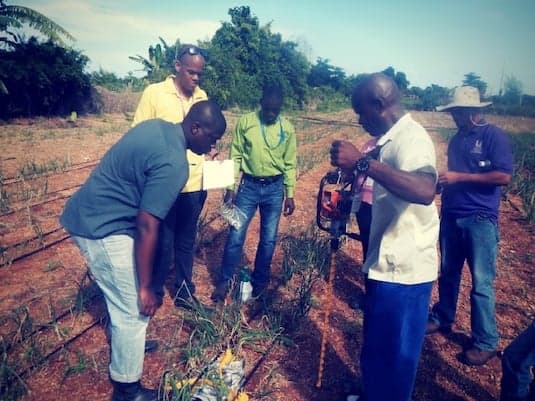 Jamaica: Drill & Drop Water And Salinity Profiling Technology
About This Project
Sentek's Peter Buss has been working in Jamaica, training key agriculture and irrigation personnel in the use and application of profile soil water monitoring technology.
In Jamaica in recent years, there have been incidents of low water production from deep wells located in the lower Rio Cobre basin operated by the National Irrigation Commission (NIC). For the period 2012 – 2013, the Rio Cobre River has experienced extremely low flows while demand for irrigation water was greater than supply. In the light of inadequate water supply and climate change negatively impacting the growth of crops, the NIC has planned a management strategy to optimize the use of water and direct farmers on irrigation best practices that should result in better crop yields.
The main objectives of my assignment were to train staff of the National Irrigation Commission of Jamaica, the Ministry of Industry, Commerce, Agriculture & Fisheries (MICAF), the Bodles Agricultural Research Station, and of the Rural Agricultural Development Authority (RADA) in the use and application of profile soil water monitoring technology in order to conduct further research and grower education in relation to on-farm water management. This training was designed to empower these stakeholders to improve irrigation soil fertility management as well as to develop better crop management strategies in onion and sweet potato crops.
Measurement and understanding of soil water dynamics are of paramount importance in relation to irrigation management, water conservation, improvement of soil fertility and the development of crop management strategies. The knowledge of water in the soil of a cropped field at any time allows the minimization of production inputs such as irrigation water, pumping energy and fertilizer application, while at the same time providing a sound basis for production increases such as crop yield and crop quality. Soil water measurements therefore are an important part of Good Agricultural Management (GAP) and a significant contributor to Food Security.
The key achievements in this training and support visit were:
To assist the in the set up of soil water monitoring equipment, including installation of probes in the field – including calibration
To demonstrate the downloading of probe data to a note book computer as well as uploading data to a cloud platform.
To provide training in data display software for soil water dynamics
To provide training in the interpretation of soil water data using many real irrigation management examples from around the world.